Dentures are removable prosthetics that can replace multiple missing teeth or an entire arch. Dentures are sometimes called "false teeth," as they are typically made from materials that mimic the look of natural teeth.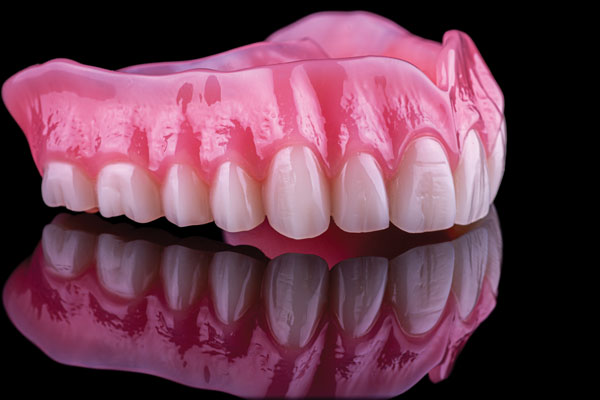 Dentures are made of an acrylic base that is colored to match a patient's gums and artificial teeth that look just like real teeth. They are held in place using dental adhesives or suction. To customize your dentures, the dentist will take a mold of your gums and jawbone, as well as your bite, and send that information to a dental lab. These dental appliances are custom-made and fit comfortably over the gums or on surrounding tissue. They can be removed for cleaning or sleeping.
Types of dentures
Partial dentures are used in cases where the patient still has some healthy teeth remaining. Full dentures, as the name suggests, are used to replace an entire arch of teeth or all of the teeth on the top or bottom jaw.
Advantages of Dentures
Dentures are removable appliances that can replace all the teeth in one jaw or both jaws. 
Dentures restore chewing function, help the patient speak clearly, and support facial muscles that sag due to tooth loss. 
Full dentures restore the appearance and function of your smile.
Full dentures are stable and not prone to slippage. This makes them a good option for patients who struggle to keep their dentures in place. 
The dentures can be easily removed for cleaning and overnight storage. 
Dentures and Your Diet
When you lose your teeth, your jawbone begins to deteriorate. Without the support of the teeth, your cheeks may also fall inward, causing a sunken appearance of the face. Dentures can replace missing teeth and prevent this from happening. They also help you regain your ability to chew food, speak, and smile.


You can reach out to our dental practice at (972) 562-0197, visit Dentist McKinney TX at 400 North Tennessee Street, McKinney, TX 75069, or book an appointment online for a consultation with our dentists.